Container Ramps–What role do they play in warehouses and shipping yards?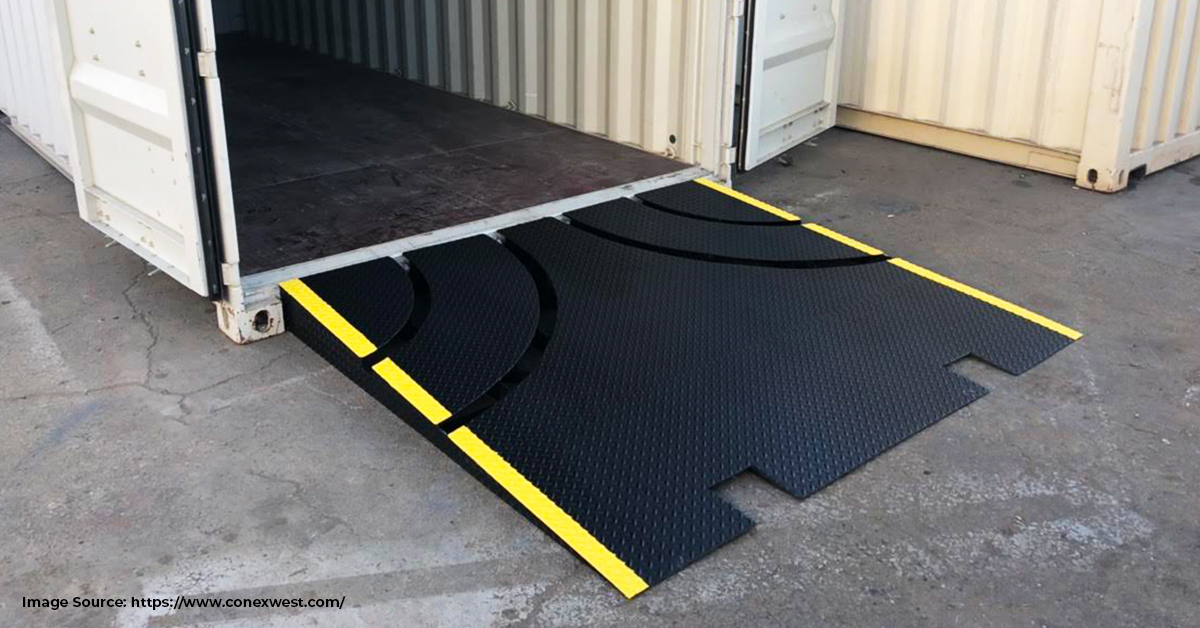 Container Ramp is a levelling device used to make way for the height difference between a storage place (warehouse or building) and a transporting vehicle or shipping container. It creates a smooth passage for forklift trucks to carry cargo on and off the containers and loading bays. We commonly come across ramps in and around warehouses, shipping and locomotive yards. Ramps compensate for the height difference and the horizontal gap between the container and the loading bay in such a way that forklift trucks and pallet jacks can move in and out of the containers with goods safely, eliminating the need to fix a permanently raised structure. It also benefits in places having no loading bays, and the ramps act as an ascending bridge between the ground and the floor of the container.
Depending upon the type of cargo and its weight, one can choose the most appropriate type of ramp. Let's explore the different container ramps and their applications.
Aluminum Container Ramps
Aluminum Ramps are suitable for heights from 40mm to 400mm with load capacities ranging from 1250kg to 7500kg. They are the perfect aids to loading machinery and can handle cargo with low ground clearance. They can be specially manufactured to match different height specifications. To ensure that the foot of the ramp rests securely, the recommended minimum and maximum load weight must be followed.
Rubber Container Ramps
Manufactured from rubber, they are perfect for handling forklifts and pallet trucks with a capacity to withstand loads up to 10,000kg. Also available in a modular form, these Rubber Container Ramps are held securely with dog bone connectors and occupy less storage space when not in use. With a width of 2200mm and height ranging from 150mm to 300mm with a gradient of 1:8 to 1:9, they allow easy entry and exit of forklifts in and out of containers stationed at ground level.
Wedge Container Ramps
These ramps are available in maximum heights up to 120mm and can hold weights up to 2900kg. Manufactured from aluminum, they are lightweight yet strong and are the right choice for pallet trucks and trolleys in warehouses and factories. The standard width is 1000mm, and its chequered surface design renders a good grip for wheels moving on them.
Pallet Truck Ramps
Designed to load heights up to a maximum of 175mm with 1000kg capacity, they are perfect for loading pallet trucks in and out of containers, over kerbs and steps. They come in lengths ranging up to 2400mm to achieve a smooth gradient for loading and unloading pallet trucks that have low ground clearance. The angled foot ensures smooth entry onto the ramp.
Rubber/Plastic Kerb Ramps
These ramps provide working heights up to 150mm and are built to a 1:10 gradient which makes them the ideal solution for loading cargo with low ground clearance.
Mobile Yard Ramps
They make the ideal solution for loading and unloading to and from containers that are stationed on vehicles. Their smooth gradient is suitable for forklifts with low ground clearance. The anti-slip surface further aids in safe loading. The heights are adjustable between 800mm and 1650mm with a hydraulic mechanism.
The versatility of ramps makes them the ideal tool for container yards where the loading bay is usually busy and occupied. Their mobility renders them ideal for sites with space constraints and fluctuating operational requirements. They provide critical support when there arise problems with normal loading bays and Dock Leveller systems. Yard ramps fulfill a major role in container yards as they make seemingly laborious tasks simpler, more functional and safe.