PREVENTING CYBER ATTACKS ON SHIPPING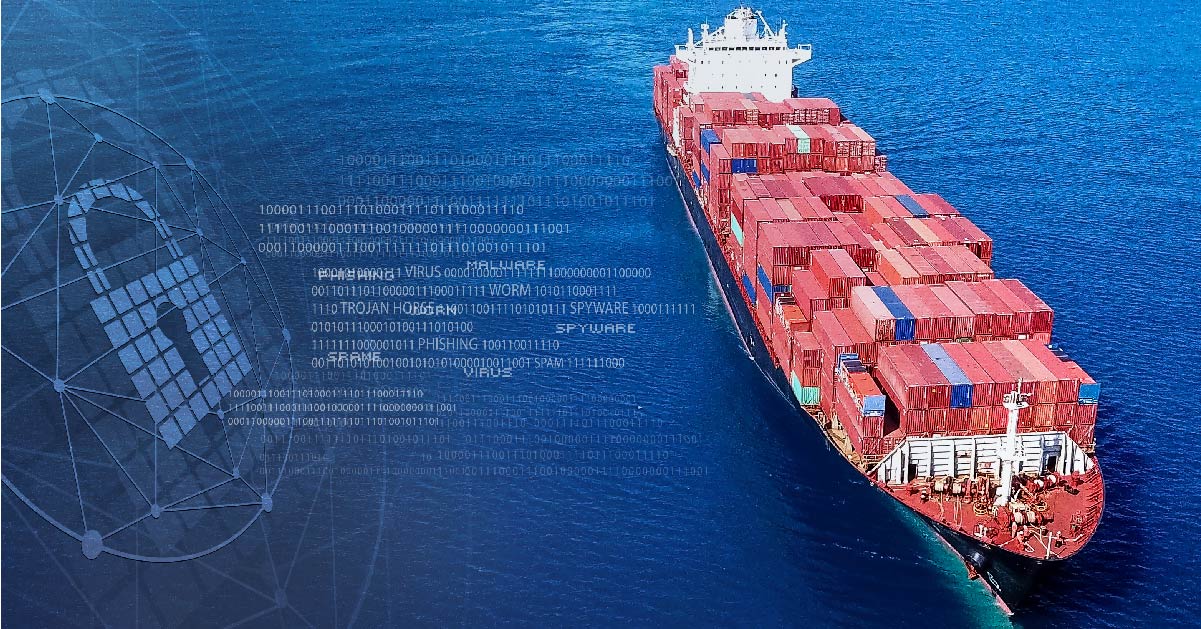 Last April, the Mediterranean Shipping Co faced a malware strike forcing the company's website and office to shut down for a week.

In 2017, the "NotPetya" malware cyber-attack on Maersk Line reportedly cost the company nearly USD 300 million.

In 2018, a ransomware attack on COSCO affected its email and telephone systems, resulting in major disruptions.
Modern shipping vessels engage systems that are increasingly reliant on computers and advanced IT systems. Technology is constantly developing, while information & operation technology on ships are getting progressively networked and are invariably connected to the internet. This carries abundant risks of unlawful access and malicious attacks on a ship's systems and networks. Hazards may also arise when staff access onboard systems and inadvertently introduce malware from detachable storage media.
The nature of cyber security risks is changing course continually, and it is becoming challenging to employ the critical cyber security measures to avert them. The most common cyber-attacks are data breaches, ransomware, malware & billing frauds. So it is vital to safeguard the data on a ship's systems.
Cyber security is the means by which an enterprise can protect its systems from cyber-attacks and unlawful access known as "hacking". It encompasses the protection of IT systems and data from unauthorized access, manipulation and disruption. Cyber security is crucial because of its potentially negative consequences on the staff, vessel, the shipping company, and cargo.
How can you sense when something looks suspicious?
Uncommon behavior from privileged user accounts should raise alarm bells. Deviations from normal activities originating from select user accounts points to the likelihood of someone attempting to gain illegal access to a company's IT network.

Unauthorized users trying to break in execute dry runs to verify the system security and data they can lay hands on. Warning signs include users attempting to access data that is unrelated to their job requirement, and logging in at odd times from uncommon locations.

Companies should stay alert not only to the data that's flowing in but also must exercise caution when they detect an unusually high volume of data getting uploaded to personal cloud applications, external storage devices or via email attachments.

A malicious activity is often indicated when data traffic flows to locations where the company has no operations. Higher load on server memory and hard drives could point to an attempt to gain illegal access.

System reconfigurations, installation of startup programs or firewall relaxations without prior approval are indicators of malicious activity.

Other alerts one should pay attention to are hidden files, user account lockouts, abnormal browsing behavior, password changes, repeated pop ups on screen and suspicious registry entries that arise when a malware, also known as malicious software gain access to a computer with the legitimate user remaining clueless about it. Examples of malware include Trojans, ransomware, viruses and spyware. Ransomware scrambles data on systems until a ransom is negotiated and settled. Malware also exploits known deficiencies in legacy systems and unpatched software.
Cyber Risk Management measures must describe the roles and responsibilities of personnel using offshore and onshore systems. It must classify specific systems, assets and data which, if violated, pose danger to the operations and security of the vessel. A vigorous Standard Operating Procedure must be in place to safeguard against cyber-attack.
The shipping sector faces exceptional challenges in staying clear of turbulent waters. Managing digital safety is no mean task. The success of a shipping and logistics company depends on its ability to track vehicles and shipments which rely on uninterrupted access to real-time data. So while the modern software tools have become indispensable, it is equally imperative that preventing cyber-attacks and ensuring data security are accorded equal prominence.
Found this article stimulating? You can research other blogs from VS&B that are loaded with a wealth of information from the world of container shipping.
The VS&B Containers group, based in Chennai, is a prominent supplier of new and used shipping containers since 1996. They deal in dry containers, reefers, flat-rack containers and open top containers, offering customers the choice to opt for used or new containers from across the world through their extensive network of depots. The company is principally involved in container trading, container leasing, and empty container repositioning. VS&B group also operates another division that offers software solutions for the logistics industry. Beyond fulfilling your container needs, VS&B takes pride in investing in the long-term success of its trading partners.
Please get in touch with traders@vsnb.com and get your containers on time!
Note:
We have sourced facts and figures for this blog from the internet.