Understanding the components that make up a shipping container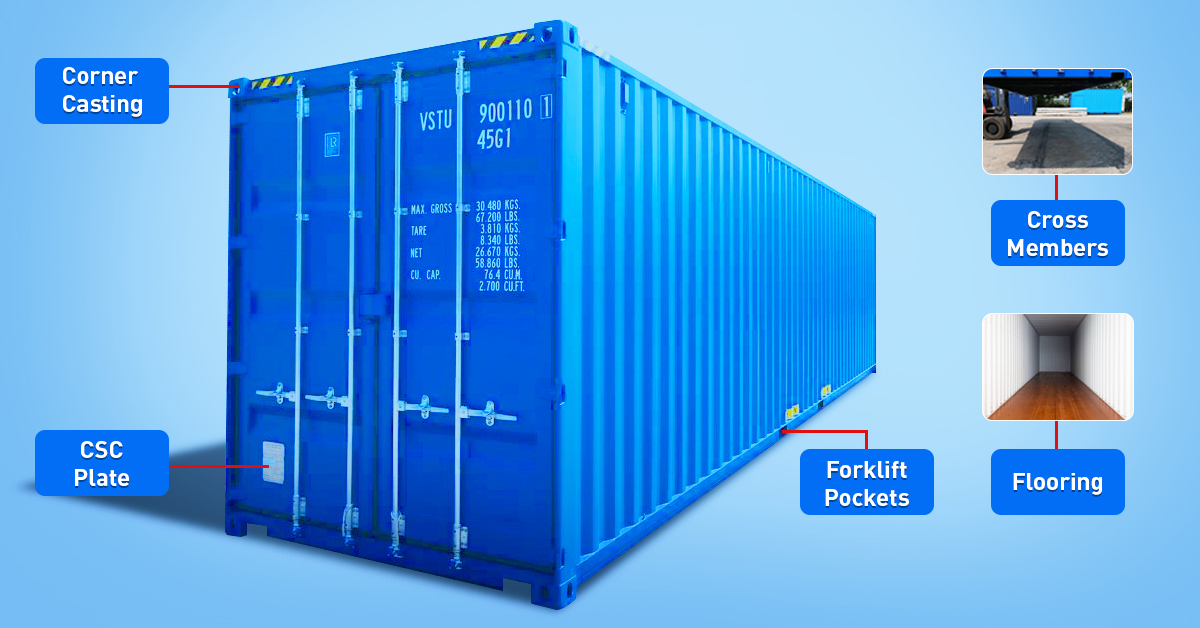 Shipping containers form a vital element in the supply chain process. They have revolutionized global trade in a way unimaginable before the invention of these metal boxes way back in 1956. Because of their intermodal capability, shipping containers can be transported through multiple modes such as road, railways and, of course, shipped vast distances across the oceans in container vessels. Standardization in the design and size of the containers has made their handling and transportation trouble-free, bringing considerable cost savings throughout the supply chain. Its efficiency translates to quick transfer of goods, less environmental impact and higher profit margins for the stakeholders.
The corrugated wall panels, frame and cargo doors are made from CORTEN steel, which is a special material, and also referred to as weather resistant steel. CORTEN steel differs from other categories of steel because it exhibits increased resistance to atmospheric corrosion and develops a protective layer on its surface under the effect of external weather. Let's study the different components that make a shipping container.
Corner Castings
Corner castings are the reinforced corner posts of shipping containers. They have openings for twist lock connections that allow them to fasten to other containers or to anchor points. The corner castings are strong enough to withstand the force of cranes.
Cross Members
Cross Members are beams that lend strength and support to the shipping container floor. They create space between the ground and the container flooring, preventing the seepage of moisture from the underneath into the containers. Containers do not require a separate foundation primarily because the cross members of the floor frame lift the container structure away from the ground, lessening the risk of damage from natural elements.
Forklift Pockets
Standard 20-foot shipping containers and some of the 40-foot containers come equipped with two openings alongside the bottom of the structures, known as forklift pockets. They are strengthened slots that accommodate forklift prongs to lift and movethe containers.
CSC Plate
CSC is an abbreviation for The International Convention for Safe Containers, which stipulates standards for shipping containers to guarantee structural strength and protect human life. Shipping containers laden with cargo are often stacked several units high. If they collapse at a port or sea, it could prove disastrous to the safety of staff working in the surrounding areas. CSC plate indicates that the container has passed specific tests, met minimum standards for capacity, weight, and resistance to shipping forces, and has been issued a four-digit alpha code that identifies the container owners and its intended use.
Bamboo Flooring
Due to their eco-friendly properties, Container Manufacturers have started using Bamboo Flooring in container manufacturing. It is more cost effective compared to hardwood. However, a majority of the Container Depots are yet to use Bamboo floors for container repairs since it is not easily available in the regional markets other than China.
Please also review other blogs from VS&B that present a wealth of information from the world of container shipping.
VS&B Containers group, Chennai, is a leading supplier of new and used dry containers, reefers, flat-rack containers and open top containers through their wide network of depots.
VS&B is known for its eminence in container trading, container leasing, and empty container repositioning. The group runs a separate division that offers innovative software solutions for the shipping & logistics industry.

VS&B Containers group takes pleasure in the success of their trading partners. Grasping your container needs early on, VS&B will suggest you the best solution that fits your needs and budget.
Contact traders@vsnb.com to get your containers promptly! Experts from VS&B will help you select the right container based on economy, flexibility and returns on investment that your business demands.
Note: We've sourced facts for this blog from: https://www.falconstructures.com/blog/what-are-shipping-containers-made-of