What is Broken Stowage and why is it necessary to reduce its occurrence?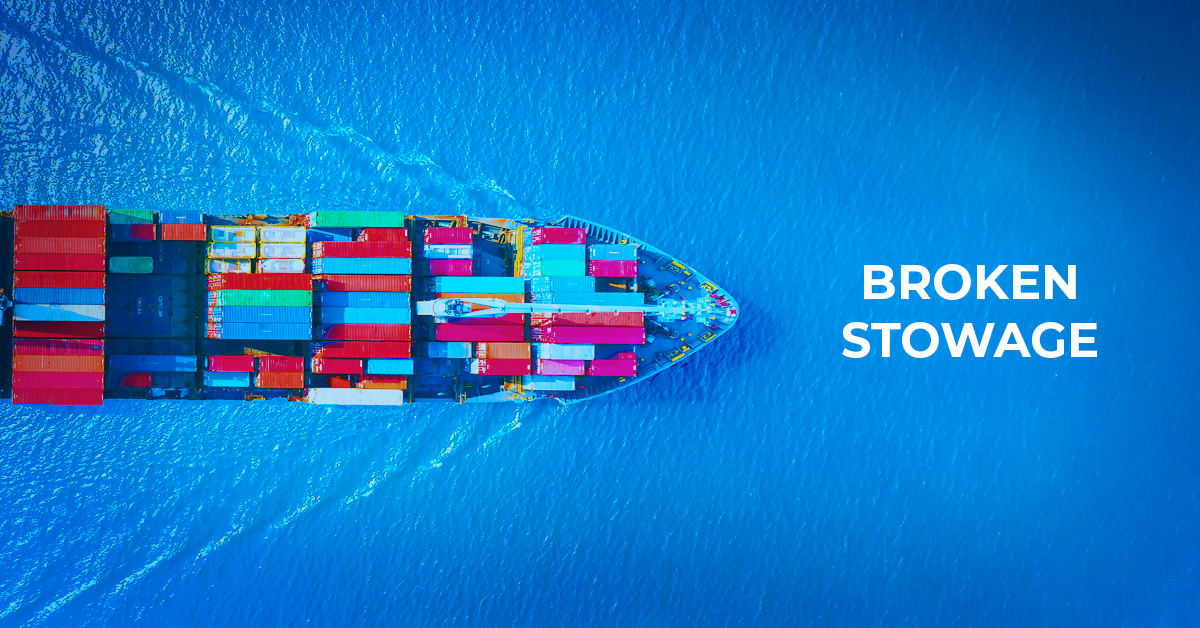 In shipping and logistics, the optimal utilization of space to load cargo is a crucial factor in determining a carrier's profitability. This applies equally to break bulk and containerized cargo.
"Broken Stowage" is the space that is not occupied by cargo in a compartment or inside a container, leaving that area unutilized, thus causing a potential loss of revenue to the carrier or the shipper.
What are the factors leading to Broken Stowage?
The factors that can result in Broken Stowage can range from Dunnage, Lashings, Ladders and Stanchions to the very shape of the vessel, while other causes could arise from the shape of the cargo or goods that were supposed to be on board, but not loaded. Other contributing factors are the uneven shape of the cargo, giving rise to spaces around projections in heavy machinery, or between curved casks.
Dunnage
Dunnage is a durable padding material that's used to protect and lend a cushioning effect to protect goods during shipping. The material can vary from bubble wrap, Kraft paper, air bags, crates, plastic bracing, filler planks and boards. Dunnage helps secure the cargo by limiting its movement during transportation.
Lashing
When containers are loaded onto vessels, they are well secured to ensure they do not fall into the sea during turbulence. Lashings are devices used to ensure that the containers remain firm, preventing them from losing their balance and falling down. While lashings play an important role in securing the cargo, they take up space and so count as Broken Stowage.
Contour of the vessel
The contours of shipping vessels are not uniform. This results in storage compartments and areas that do not permit optimum utilization of cargo space. Areas such as curved walls and cargo bays where cargo cannot be loaded are counted as Broken Stowage.
Ladders
Ladders form part of vessel design, and they are permanent fixtures. They are indispensable in gaining access to various compartments within the vessel. The space these ladders occupy result in Broken Stowage.
Stanchions
Stanchions in cargo vessels function as guiding structures to secure the cargo and prevent it from sliding or shifting during transportation. They're also known as 'stoppers' and are commonly used when transporting pipes.
Cargo Shape 
Equipment, such as machinery and vehicles, comes in different shapes and sizes. Such cargo does not permit stacking and they may leave spaces around their protruding extensions which lead to Broken Stowage.
Insufficient Cargo
Shippers sometimes face situations where the entire quantity of cargo originally booked cannot be loaded for various reasons. The space thus left behind also comes under the category of Broken Stowage or Dead Freight.
Valuable cargo space can be well-utilized by choosing packages which, by the nature and value of their contents and their construction, are suitable for filling broken stowage areas. Reels of barbed wire, bales of binder twine, coils of small wire, for instance, are ideal to achieve this objective. Casks and drums must be stowed upright rather than on their sides. Fill in spaces left between large cases with smaller packages, taking necessary precaution to ensure that the packages do not get crushed.
VS&B Containers group, Chennai, is a leading supplier of new and used dry containers, reefers, flat-rack containers and open top containers through their wide network of depots.
VS&B is known for its eminence in container trading, container leasing, and empty container repositioning. The group runs a separate division that offers innovative software solutions for the shipping & logistics industry.
VS&B Containers group takes pleasure in the success of their trading partners. Grasping your container needs early on, VS&B will suggest you the best solution that fits your needs and budget.
Contact traders@vsnb.com to get your containers promptly! Experts from VS&B will help you select the right container based on economy, flexibility and returns on investment that your business demands.
Note:
We've sourced facts for this blog from:
freightcourse.com/broken-stowage and generalcargoship.com