What does 2021 hold for shipping?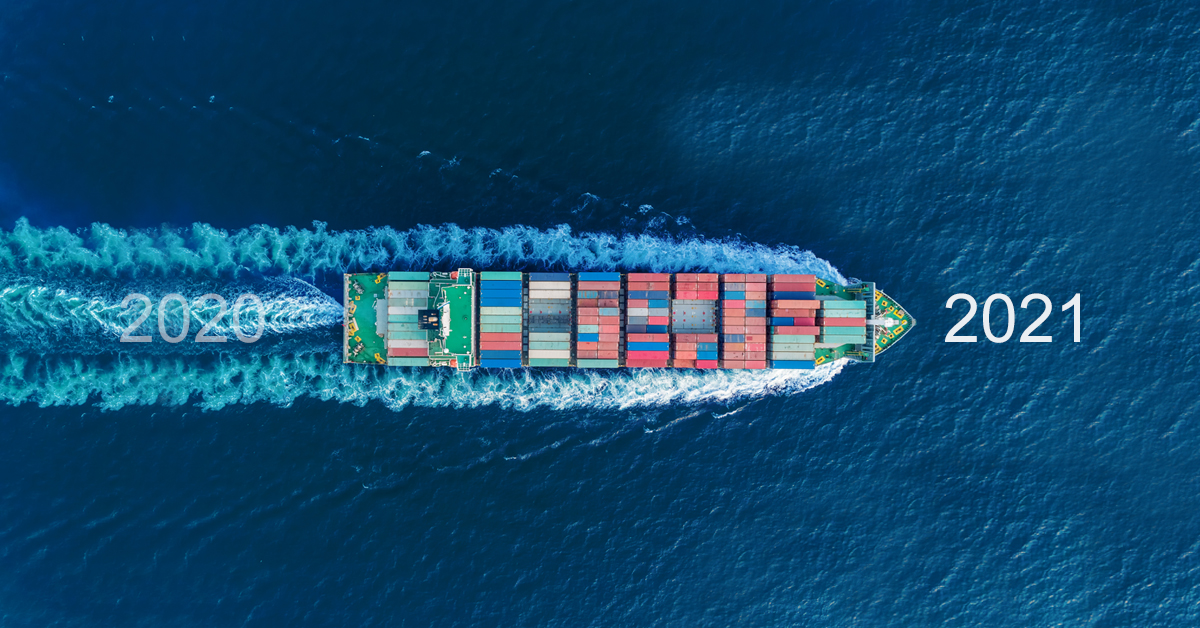 The primary essentials for businesses to overcome crises, maintain profitability and sustain their growth, as proven by numerous historical events, are by staying agile and learning to adapt to changing environments and sudden unexpected exigencies of the time. The COVID-19 pandemic was an unpredictable event that displaced people from their normal routine and brought major business activities to an unprecedented slowdown process that also left millions of people without jobs all over the world. While many businesses were shut down, many others managed to push their way through the crisis and bounce back with greater vigor. These events point to a fundamental truth behind survival and success, which is, those who innovate and adapt to change will endure and survive. This principle rightly applies to individuals and large businesses alike. The economic crisis of 2020 that arose from the consequences of the pandemic revealed that adverse circumstances in life can be overcome with resilience and courage. 
The United Nations Conference on Trade and Development (UNCTAD) has projected a positive outlook for global maritime trade and a return to growth in 2021. This air of positivity comes at a time when the industry is slowly beginning to redeem itself from the repercussions of the pandemic that brought down the volume of global maritime trade by over 4% in 2020 as per data released in November 2020. 
Compared with the first half of 2020, the container shipping industry is poised to deliver a profitable second half. Spot rates, which are ever dynamic and dependent on market conditions, are witnessing an upswing, while the volumes are also increasing at the same time. A rapid resurgence in post-lockdown demand has propelled volume on the Asia-Europe and Trans-Pacific trade routes.
The aftermath of the COVID-19 crisis left the global trade and maritime industry in serious problems, a magnitude of which was not experienced in recent times. It is unfortunate that it took global health issues and the resultant economic crises for many of us to realize the importance of logistics to keep the global economy ticking and determine this industry's pivotal role in the progress of our citizens and nations at large. Import and exports witnessed downward trends with the demand for containers seeing a sharp decline together with increasing turnaround times at ports, drastic fall in crude oil prices and cargo rollover.
Today, a solid path to permanent recovery is in place, thanks to the unified and collaborative approach that all stakeholders have embraced to face the new challenges and take the industry one step ahead in terms of employing innovative methods to reduce costs and apply the tools provided by the revolutions happening in the IT arena. Digitalization became the new buzzword in the maritime industry, where technology came in not just handy but proved to be an essential instrument to stay progressive and lay a concrete path to recovery from the economic crisis. The maritime industry which is highly labor-intensive and dependent upon field operations, quickly adapted to the new norms like remote working, while the frontline manpower continued to deliver their best by ensuring that the needs of the end-consumers were kept in focus. Container shipping alliances rallied and worked in a disciplined manner by staying away from price-wars to stuff ships, and instead chose to exercise the option of strategic blank sailings and cost reductions where necessary. This led to freight rates remaining steady despite weakened demand.
According to a survey by auditing company PricewaterhouseCoopers, over three-fourths of the corporate businesses predict that the markets will recover by June 2021, largely owing to their focus on innovation and operational efficiency. Early signs of recovery have already become quite apparent from September 2020 onwards, and it is expected that this momentum will continue until full recovery is attained.  A majority of the respondents of the survey are of the view that the industry should pay more attention to fast-tracking of digital empowerment that would bring in higher productivity, efficiency and reduced dependence on manpower. 
2021 will witness increased levels of alliances and close interactions across the functional activities of businesses that will lead to higher customer satisfaction and value creation.  The year ahead forecasts a good foundation for optimism. World Trade is expected to rebound and this will have a direct bearing on the fortunes of the maritime industry.