WHY DOES THE "CERTIFICATE OF ORIGIN" PLAY AN IMPORTANT ROLE IN INTERNATIONAL SHIPPING?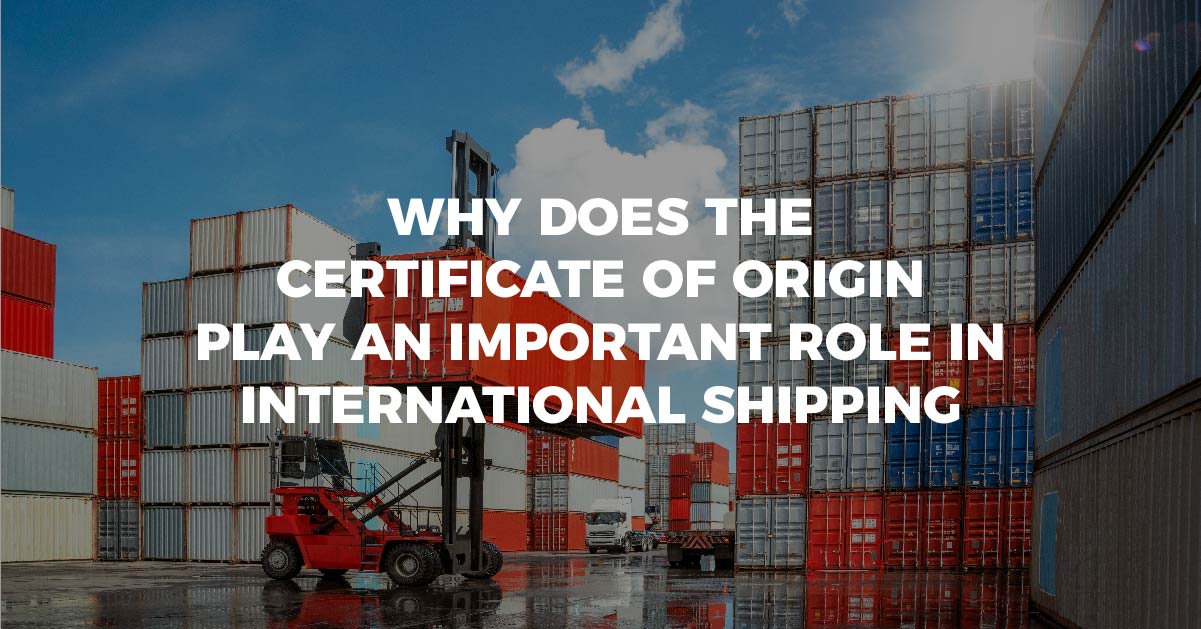 A Certificate of Origin is an essential international trade document which certifies that the goods contained in a specific export shipment are wholly obtained, produced, manufactured, or processed in a specific country. Also known as CO, the document states the "origin or nativity" of the product and it serves as a testimony from the exporter in order to confirm to trade regulations and customs requirements applicable to different nations.
Certificate of Origins are scrutinized by banks, customs, stakeholders and importers to arrive upon the applicable customs duty tariff and interpret ways to handle trade measures in force among nations. It can also serve as a valid document to determine whether the goods can be legally imported or not, for instance, when there is a trade embargo between two nations.
There are two types of Certificate of Origins in use:
Non-Preferential Certificate of Origin certifies that the goods are not subject to preferential tariff considerations, and the duties applicable will be levied when the goods are imported into a country.
Preferential Certificate of Origin certifies the category of goods that are subject to privileged tariff treatment in the payment of duties. Such duty tariffs may be one that grants a reduction in the standard tariff, or it also can point to a complete exemption from payment of duty. When two or more nations conclude a trade agreement necessitating such concessions, preferential certificates of origin come into play.
The place of origin of a product refers to the country where it was "manufactured" or "procured" and it is not suggestive of the country from where it was transported to its final destination. However, in a scenario where the production takes place in two or more nations, then the country of origin is deemed to be the one where the product was wholly obtained or produced. To put it another way, the country of origin is considered as the one where the last economically justified production process was carried out.
The certificate of origin is an important component in trade relations between two countries, but there is no uniform standard that governs it, because there is no specific mandate in this regard from the world trade authorities. But a certificate of origin must explicitly share information about the type of product, country of origin, customs code, exporter and importer information. While some goods may enjoy preference and exemption from duty in a particular country, other countries need not enjoy such preferential treatments. So the exporter should be aware of the precise border restrictions applicable to the country of final destination. For all international shipments, the exporter must produce a Certificate of Origin. The country of origin is verified to meet governmental obligations due to economic, political or environmental factors - for example, import quotas, a boycott or anti-dumping measures in place.
The current shift towards digitalization has led to the dawn of Electronic Certificates of Origin (eCO). Several chambers of commerce have begun issuing eCOs, and such e-Business initiatives are helping to build a more robust business atmosphere by saving time & costs, achieving higher transparency in all transactions.
Some highlights of eCOs are security features such as an online verification of the certificate's authenticity, optical water marking that distinguishes the original from a duplicate, digital rubber stamp of the issuing Chamber with digital signature of officials, and microprint to prevent unauthorized reproduction.
If you found this article interesting, you can also read other blogs from VS&B that are packed with a wealth of information from the world of container shipping.
The VS&B Containers group, based out of Chennai, is a leading supplier of new and used shipping containers since 1996. Dealing in dry containers, reefers, flat-rack containers and open top containers, the company offers customers the choice to pick used or new containers from across the globe through their wide depot network.
Primarily engaged in container trading, container leasing, and empty container repositioning, the VS&B Containers group also operates a separate division that offers software solutions for the logistics industry.
While fulfilling your container needs, VS&B takes pride in being a partner in the continuing success of its trading partners. The company will recommend the right solution that fits your needs and budget.
Contact traders@vsnb.com and get your containers on time! Experts from the VS&B team will explain how you can choose the right container based on key factors like costs, flexibility and returns on investment that your business demands.
Note:
We have sourced facts and figures for this blog from the internet.