Did you know?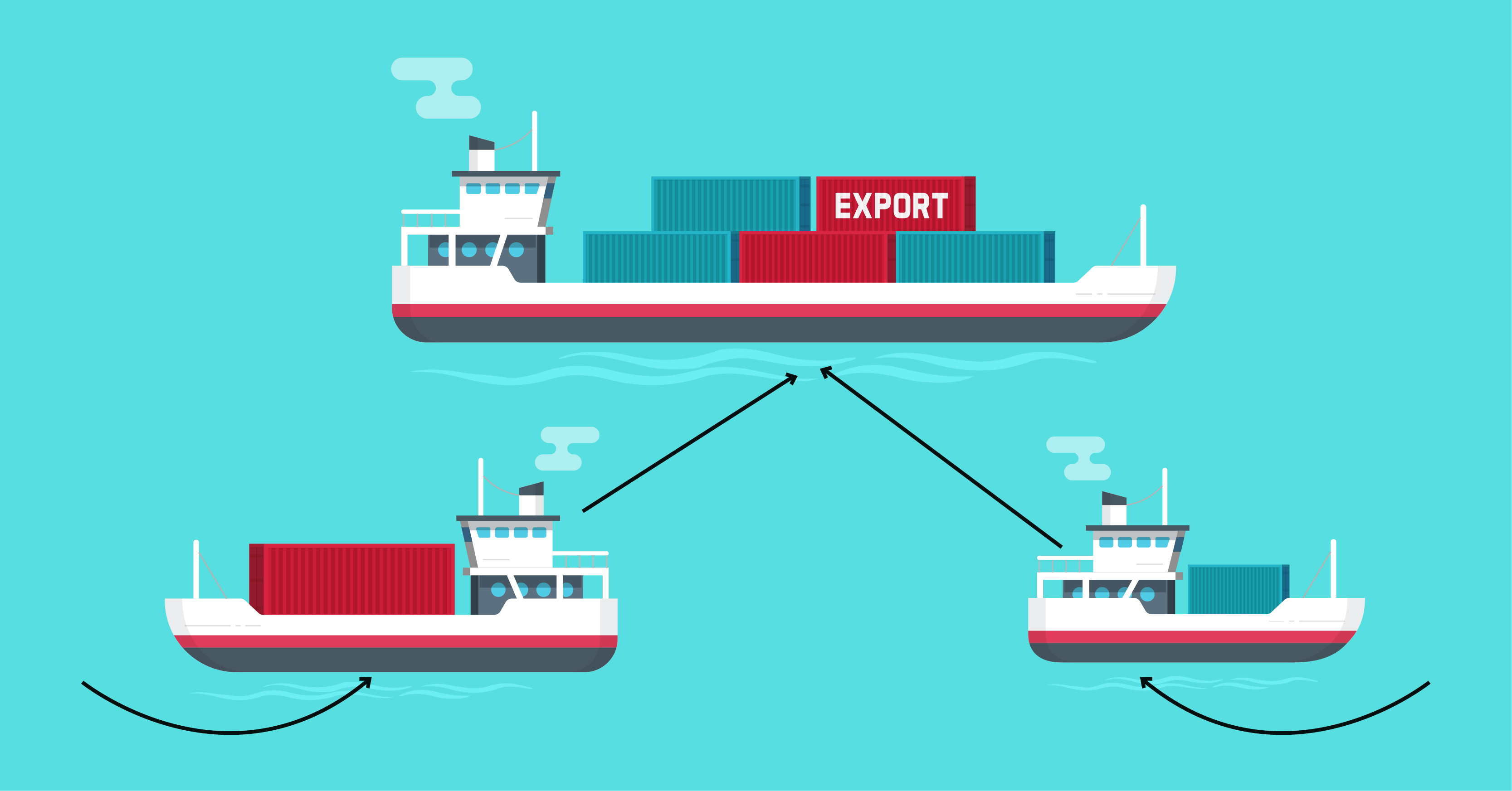 Indian ports, in the fiscal year 2019, handled approximately 16.5 million TEUs (Twenty-foot equivalent units) as per data released by the Ministry of Shipping, India. 
Of this volume, 4.1 million TEUs (around 25%) were transshipped at hubs abroad. 
Out of the 4.1 million TEUs bound for India, Colombo Port alone handled 2.5 million TEUs. 
The remaining 1.6 million TEUs were handled at ports in Singapore, Port Kelang and Jebel Ali. 
According to a study conducted, if these transshipments which happened at Colombo Port were instead executed at an Indian port, the cost of imports and exports in India could have reduced by US$ 40 to 50 per TEU.
What is transshipment?
Transshipment is a procedure by which containers are shipped to an intermediate or transitional terminus before they are transported to the final destination. It can also be described as a process by which a container is moved from one vessel to another at a hub while in transit to its final destination.
Stimulated by the growth in international trade, transshipment plays a pivotal role in the global supply chain process letting goods reach distant parts of the globe in a smooth and well-coordinated fashion. It facilitates large shipping liners to navigate the principal routes without the need to call upon smaller and less-traveled ports to pick or offload cargo during the course of their extended voyage.
Let's understand the need for transshipments from an example here. A container that has to be transported from a port in Philippines to Durban in South Africa has to pass through an intermediate port because there could be an absence of direct connection between these two ports. So containers bound for Durban from Philippines are first transported to an intermediate hub like Singapore, and from there reloaded to another vessel heading from Singapore to Durban. Therefore in this instance, Singapore port acts as a transshipment hub because it is connected to the container's port of origin in Philippines and also its final destination at Durban in South Africa.
Transshipment allows logistics companies a high measure of flexibility that delivers substantial cost advantages. A supply chain company can deliberate upon consolidating numerous small shipments and thus fill a single container or deconsolidate a large shipment into smaller ones before dispatching to various locations. On the contrary, if the cargo is shipped on a vessel traversing a direct route, it might prove costly. Furthermore, large vessels that ply direct routes do not usually touch smaller ports.
Singapore Port is well-reputed as a leading and specialized transshipment hub. It accounts for almost 15% of the world's container transshipment volume. Other leading hubs are Shanghai and Shenzhen in China, Busan in South Korea and Hong Kong.
Global container transshipment volumes are increasing at an average growth rate of 8% per annum. At this rate of growth, the share of transshipments in total port volume will soon touch almost a quarter of the total world volume. It is believed that South-East Asian ports such as Singapore and Port Klang in Malaysia will gain significantly from container transshipment services with the emergence of large vessels operating on strategic routes. 
In the Asia-Europe route, ports of Singapore, Hong Kong and Tanjung Pelepas in Malaysia will continue to dominate the transshipment business. Almost 60% of the total volume of transshipment business will be handled by the ports of Hong Kong and Busan. Singapore and Hong Kong will continue to dominate as the central transshipment ports in the region.
Transshipment usually happens in the absence of a direct route to a destination, while at the same time, this method is also employed to reduce shipping costs. This however leads to delays at ports as containers have to be offloaded from a ship and then loaded onto another ship departing to the final destination. Delays often stretch from weeks to months with port congestion being a major contributing factor. If the cargo is meant to be delivered urgently, a transshipment route is recommended only if there is no direct route to the port of final destination. Transshipments can also occur during times when the port of destination becomes inoperative due to low tide or the port is ill-equipped to receive big vessels. Trade restrictions and tariffs imposed by one country on another can also lead to circumstances where a transshipment recourse becomes the only practical solution.