Did you know that a container ship's engine is a thousand times more powerful than a car?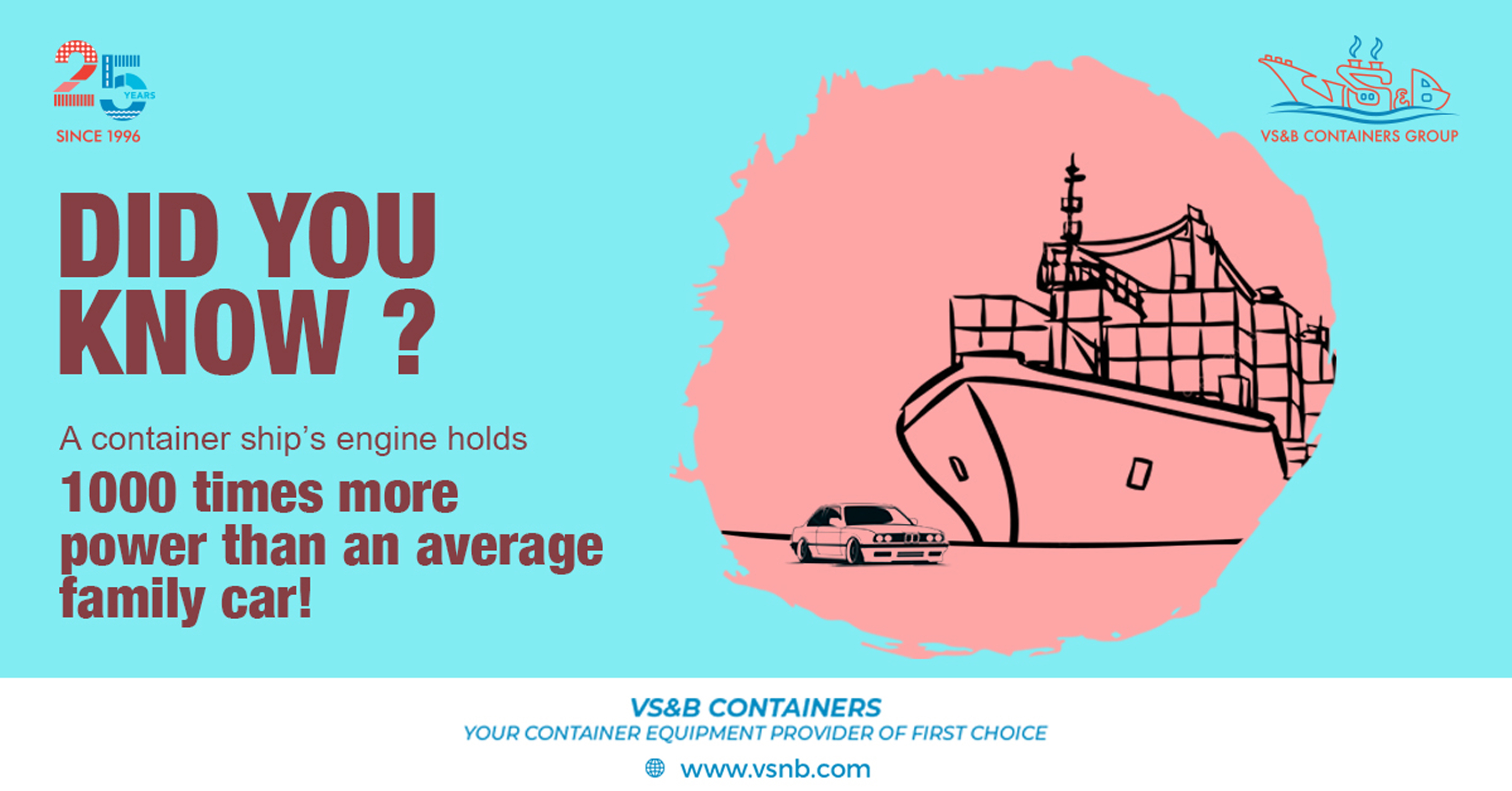 Ships crisscross our oceans carrying 90% of the world's produce. Trade and
commerce on a scale that we see today would not have been possible
without the sea routes that provide a way for the world's merchandize to be
carried to the farthest corners of the globe. Approximately 50,000
merchant ships intersect the oceans each day, carrying roughly 5 to 6
million containers packed with goods. With the spurt in global trade, the
ships are getting larger and shipping routes getting more congested.
It should come as no surprise that mega-sized vessels which carry thousands of loaded
containers also need enormously powerful engines to propel them. The size of a ship's
engine depends on the size and capacity of the ship. When we talk of a ship's engine
power, it's interesting to know that a container ship's engine holds 1,000 times more
power than an average family car, and its height can go as tall as a 5-storied building.
Despite packing such enormous power, ships sail at an average speed of only 40 km per
hour.
Maersk's Triple-E container ships, which are among the largest container ships in the
world, have a capacity of over 18,000 twenty-foot-container equivalent units (TEU).
They are run by two separate two-stroke diesel engines, each is equipped with eight
cylinders of 800 mm bore and delivers optimum efficiency at 73 rpm with a combined
power of 59,000 kW.
Container ships are marvels of modern engineering, and designed to carry thousands of
containers for thousands of miles on a single voyage across the oceans under the
harshest conditions. Measured in TEU (Twenty-foot Equivalent Unit), below are some
of of the world's 6 largest container vessels:
Ever Ace – 23,992 TEU
HMM Algeciras – 23,964 TEU
HMM Oslo – 23,820 TEU
MSC Gulsun – 23,756 TEU
MSC Mina – 23,656 TEU
CMA CGM JACQUES SAADE – 23,112 TEU

In today's times, ship propulsion means a lot more than moving a vessel in the waters. It
encompasses the optimum mode of propulsion to guarantee a higher safety standard for
the marine ecosystem, cost effectively.
Please read other blogs from VS&B that carry a load of information from the world of
container shipping.
Chennai-based VS&B Containers group delivers new and used dry containers,
reefers, flat-rack containers and open top containers, offering customers the choice to
pick them from across the globe through their wide depot network.
With a firm foothold in container trading, container leasing, and empty container
repositioning, the VS&B Containers group also manages another division offering
leading-edge software solutions to the shipping & logistics industry.
VS&B Containers group takes pride in the ongoing success of their trading partners.
Appreciating your container needs early on, VS&B will recommend the best solution
that fits well into your budget and needs.
Contact traders@vsnb.com and get your containers on time! Specialists from the
VS&B team will show how you can choose the right container based on costs, flexibility
and returns on investment that your business expects.
Note:
We have referred the internet to source facts and figures for this blog.