The floating rubber ducks in the ocean that teach us good lessons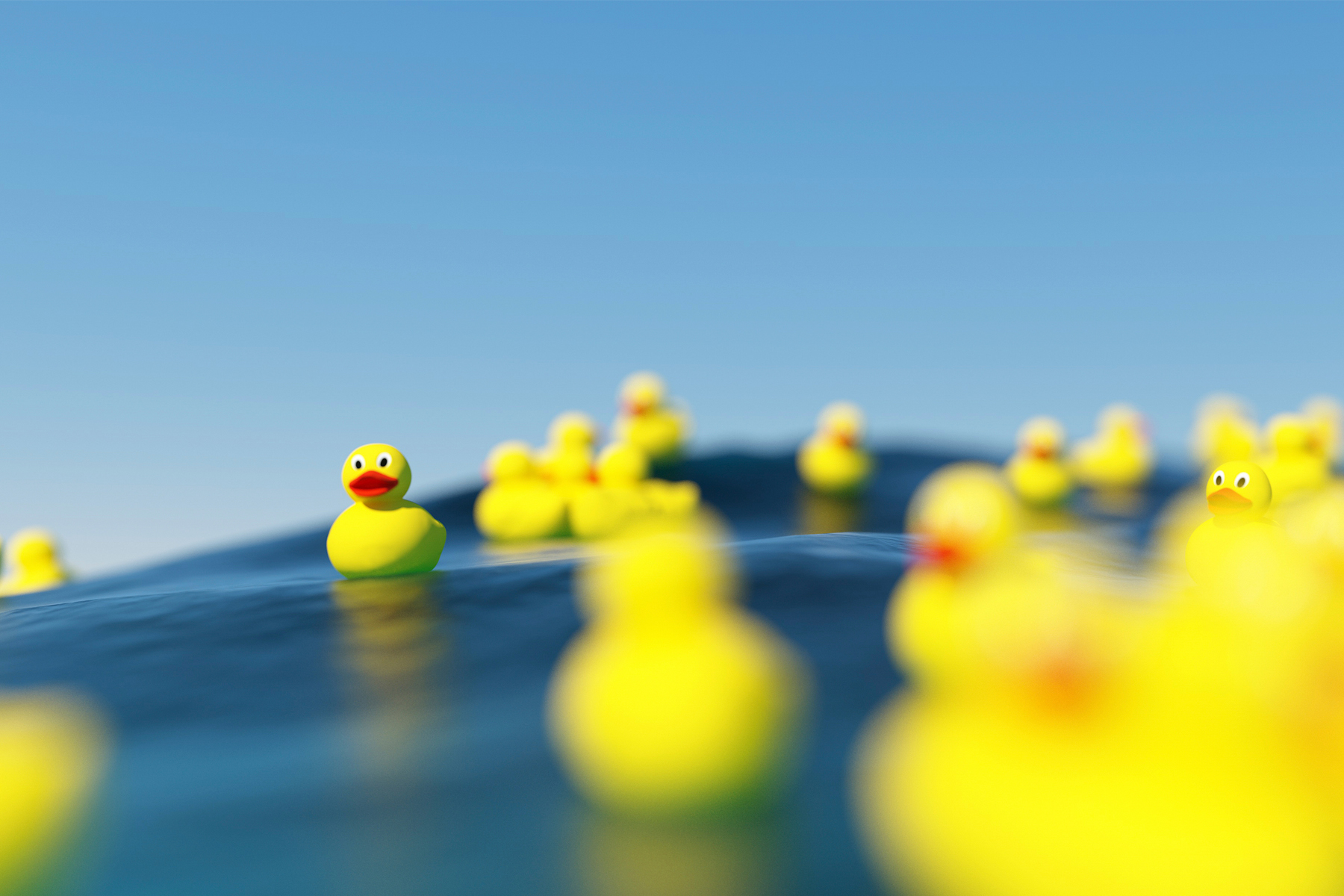 On January 10, 1992, a container ship "Evergreen Ever Laurel" cruising from Hong Kong to Tacoma, Washington, encountered a storm in the Northern Pacific Ocean, bringing down 12 containers into the icy waters below. One container was carrying bath toys comprising rubber ducks, turtles, beavers, and frogs. Swept away by the ocean currents, the container spilled 28,000 rubber ducks and other toys. After staying afloat in the oceans for several years, some of them surfaced in Sitka, Alaska, followed by more many washing ashore in Japan, and then again in Alaska. Many were found on the beaches in Indonesia, Australia, New Zealand and South America. Intriguingly, they are still continuing to be discovered in distant parts of the world.
Today, these rubber ducks are acclaimed for changing our insights into the mechanics of ocean currents, as well as for teachings us good lessons on pollution in the seas caused by container spillage, plastic fragments and chemical sludge that find their way into the oceans from land. Although scientists have studied the pattern of ocean current flows, it has been impossible to prove their calculations with precision.
Since that eventful day in 1992, the yellow ducks have traversed up and down halfway around the globe. Some have surfaced on the shores of Australia, the Pacific Northwest, Hawaii, Alaska and South America, while others have been found in the Arctic ice. Yet, others reached as far as Scotland and Newfoundland in the Atlantic. Devoted followers of the floating ducks, who have christened them the "Friendly Floatees", are still tracking the routes these ducks are navigating.
Roughly 2,000 of these rubber ducks still circulate in the rotating ocean currents in the North Pacific Ocean. Scientists knew about the existence of such ocean currents, known as "Gyre", but until the ducks were spotted and their movements monitored, it was not known that it takes approximately 3 years to complete a single ocean current circuit. The North Pacific Gyre is also referred to as the Great Pacific Ocean Garbage Patch, which appears like a massive island of floating matter. We must thank the unfortunate ducks because they helped raise awareness about such gyres, which chiefly comprise tiny bits of plastic, chemical sludge, plastic bottles and other debris discarded by humans.
The rubber ducks are still being discovered in their original state 3 decades after they fell into the waters. Ironically, this is not something to feel happy about. The 5 major garbage patch areas in the world's oceans are potential channels for keeping the world's trash in circulation, causing undeniable destruction to our environment. It upsets the hopes and aspirations of all living species on earth.
It's our collective responsibility to address this ocean-sized problem on a war footing by changing our individual behavior and generating lesser waste products as we go about our daily lives.
Please check other blogs from VS&B that hold a wealth of information from the world of container shipping.
Chennai-based VS&B Containers group supplies new and used dry containers, reefers, flat-rack containers and open top containers, extending customers the choice to pick them from across the globe through their wide depot network.
With a powerful presence in container trading, container leasing, and empty container repositioning, the VS&B Containers group also operates another division offering leading-edge software solutions to the shipping & logistics industry.
VS&B Containers group takes delight in the continuing success of their trading partners. Knowing your container needs early on, the company will recommend the best solution that fits well into your budget and needs.
Contact traders@vsnb.com and get your containers on time! Specialists from the VS&B team will show how you can choose the right container based on costs, flexibility and returns on investment that your business demands.
Note:
We have sourced facts and figures for this blog from the internet.