Leasing Specialized Containers: Unlocking the Potential for Your Cargo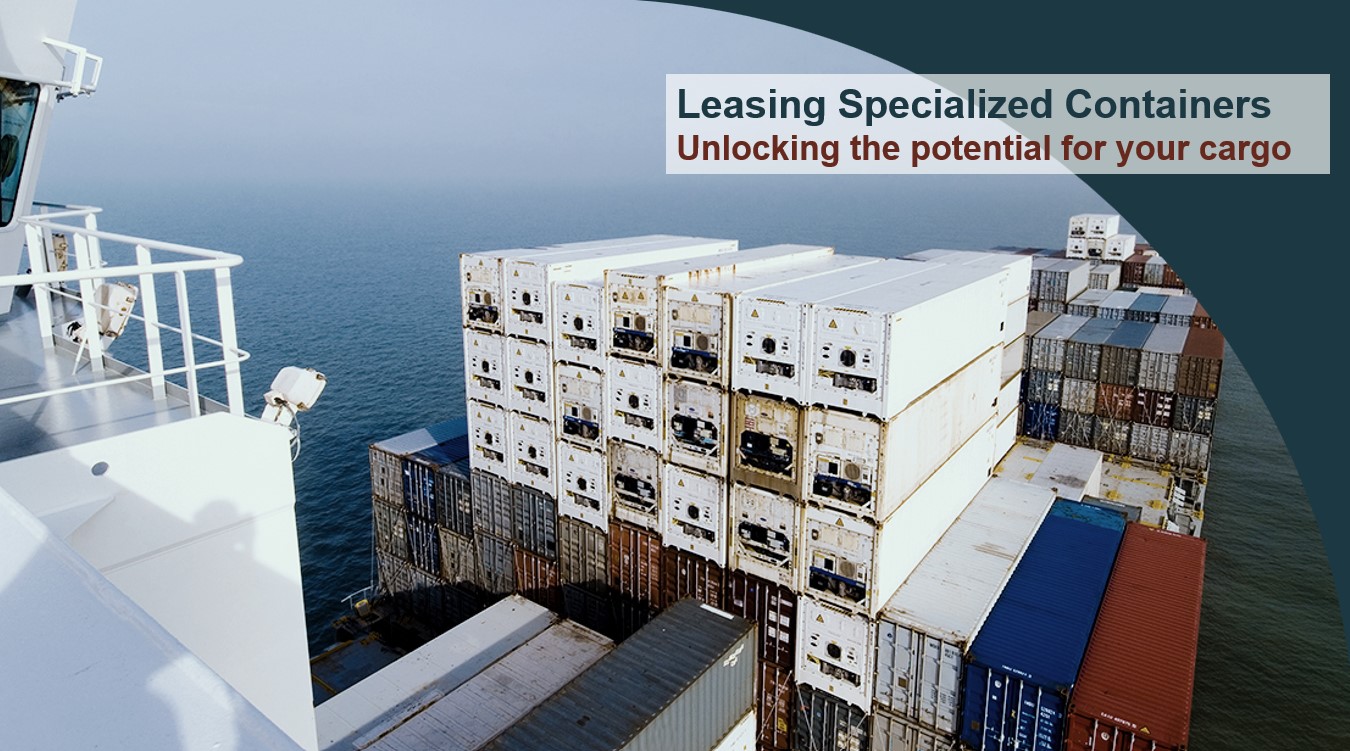 When it comes to transporting goods across the globe, one size doesn't fit all. Different cargo types demand specialized containers tailored to their unique requirements. This is where leasing specialized containers shines as a cost-effective and flexible solution. In this blog post, we delve into the world of leasing specialized containers, focusing on reefers, tank containers, and open-top containers, and how VS&B Containers group can cater to your cargo needs. 
Refrigerated Containers (Reefers) 
The demand for refrigerated containers, often called reefers, has been on a steady rise. These specialized containers maintain specific temperature and humidity levels, making them ideal for perishable goods like fruits, vegetables, pharmaceuticals, and more. Leasing reefers offers several advantages: 
Temperature Control: Reefers are equipped with precise temperature control, ensuring your cargo arrives in pristine condition. 
Flexible Leasing: Leasing reefers allows you to scale your operations according to seasonal demands without the commitment of ownership. 
Cost-Efficiency: Avoid the upfront costs and maintenance expenses associated with owning reefers. 
Tank Containers 
Tank containers are designed to transport liquids and gases safely and efficiently. They're indispensable for the chemical, food, and petroleum industries. Here's why leasing tank containers makes sense: 
Cargo Diversity: Tank containers can carry a wide range of products, from hazardous chemicals to food-grade liquids. However, there are restrictions on what cargo a tank can carry based on what was loaded in it previously. So it is important to know what the tank carried previously to avoid cross contamination. 
Global Compatibility: Tank containers adhere to international standards, making them suitable for global shipping. 
Reduced Capital Outlay: Leasing minimizes initial investment, freeing up capital for core business activities. 
Open-Top Containers 
For oversized or heavy cargo that can't fit into standard containers, open-top containers are the solution. These specialized containers come with removable roofs for easy top-loading. Leasing open-top containers offers: 
Versatility: Open-top containers are perfect for machinery, equipment, and other bulky items, making them versatile for various industries. 
Ease of Loading: Top-loading simplifies the loading and unloading process, saving time and labor costs. 
Budget-Friendly: Leasing eliminates the need for storage and maintenance expenses, making open-top containers cost-effective. 
Why Choose VS&B Containers group for Leasing Specialized Containers? 
At VS&B Containers group, we understand the diverse needs of businesses involved in international trade. Our extensive fleet of specialized containers, including reefers, tank containers, and open-top containers, is available for lease to cater to your cargo requirements. 
When you lease with us, you benefit from: 
Global Reach: We provide container leasing solutions worldwide, ensuring seamless logistics for your cargo. 

Quality Assurance: Our containers are meticulously maintained to industry standards, guaranteeing the safety and integrity of your cargo. 

Flexible Terms: Tailored leasing terms allow you to adapt to changing market conditions and cargo demands. 

Cost-Effective Solutions: Leasing specialized containers from VS&B Containers Group is a cost-effective alternative to ownership. 
Unlock the potential of your cargo by exploring the world of specialized container leasing with VS&B Containers. Contact us today to discuss your unique requirements and discover how our leasing solutions can optimize your logistics operations. 
For more information on container leasing, specialized container options, and industry insights, explore our blogs. 
VS&B Containers, headquartered in Chennai, began operations in 1996. The company offers a wide variety of containers, both newly built and used, and custom-built units that can be directly shipped from our manufacturing facilities to your preferred destinations across the world. We also operate a leased fleet of over 30,000 containers for both international leasing and domestic leasing (within India). If you have container requirements, do drop us an email at enquiry@vsnb.com and a member of our team will reach out to assist you. 
Furthermore, iInterchange Systems (A VS&B group company) provides state-of-the-art software solutions tailored specifically to meet the needs of container shipping and logistics enterprises. Please visit www.iinterchange.com or drop us an email at sales@iinterchange.com for more details.