Used Container Certification and Grading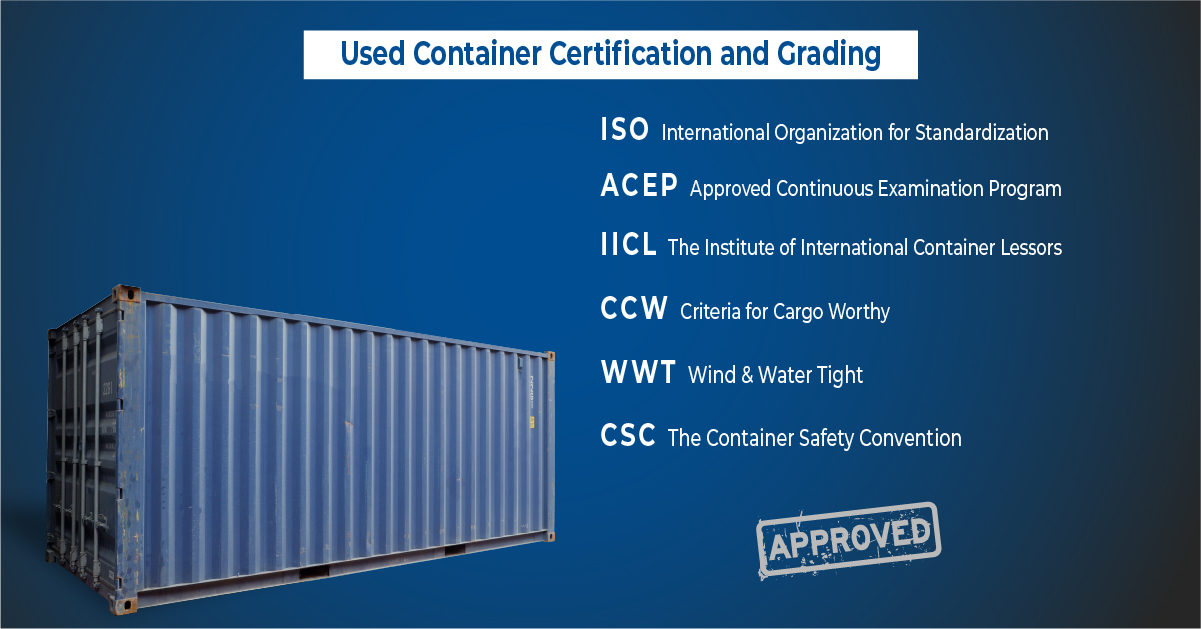 Containers are the principal mode by which shipping lines transport goods across the oceans to distant markets.  Containers have a long serviceable lifespan, therefore to keep them in good condition, regular maintenance assumes great significance. 
By and large, shipping containers serve users well for 15 years or even longer. In effect, this implies that used containers can deliver continuous value addition to shipping lines with regular maintenance and care.
When dealing with used containers, an obvious question that pops up in our minds concerns their quality and grade. There is no clear-cut universal grading system for containers, so it is challenging to reach a firm conclusion on a grade or quality.
Understanding some abbreviations and terms normally associated with used shipping containers can help bring some transparency and clarity to how one can look at issues concerning the grade and quality of shipping containers.
IICL – The Institute of International Container Lessors
This is the principal trade association of the marine container leasing industry. All repairs are carried out based on the standards set by IICL. For used containers, IICL is the right benchmark to count upon while undertaking repairs. The IICL is the benchmark organization that plays an active role in governmental, regulatory, customs, tax, educational, technological and environmental matters.
CCW – Criteria for Cargo Worthy
The Container Owners Association's (COA) Criteria for Cargo Worthy (CCW)must pass meticulous inspections before the containers are certified as worthy for international maritime shipping. The structural condition of ISO Dry Freight General Purpose Containers are assessed and described by COA before certification for a one-way voyage as a shipper-owned container.
WWT – Wind & Water Tight
Shipping Containers are certified as WWT provided wind and water cannot enter inside, on the condition that they are used in accordance with their intended purpose. While most new containers are WWT compliant, used containers can be overhauled to make them wind and water-tight. However, WWT containers do not automatically mean they are cargo worthy. This is where CSC Certification comes into the picture.
CSC Safety Approval Plate
The Container Safety Convention requires that containers used for international voyage must be fitted with valid Safety Approval Plates (CSC Plate). This convention was adopted in 1972 at a conference organized by the United Nations and The International Maritime Organization (IMO). The main goal is to achieve a high degree of safety of human life in the handling of containers and assist the international transport of containers by providing standard international safety guidelines.
ACEP – Approved Continuous Examination Program
This is a quality inspection program initiated by container owners to monitor the condition and maintenance of their containers. When scrutinized under an ACEP, the periodic CSC re-inspections are not compulsory. 
ISO – International Organization for Standardization
The ISO is based in Geneva and works in 165 countries. The organization promotes worldwide proprietary, industrial and commercial standards, including those governing the construction of shipping containers. 
It should be borne in mind that grading is most often an internal classification system within a company, and has no allegiance to any international standard for purchasing containers. This suggests that although different companies could categorize their containers as grade A, B, or C, it does not mean that a particular grade certified by one company would suggest an identical quality standard in another company. Such grading is not based on international standards and tends to refer more to the aesthetic features of the container as against the structural quality which is more significant.
Points to ponder!
When purchasing containers one must define clearly his needs and preferences before making the final choice.
Three basic points to deliberate upon: 
1. Is the container meant for transporting cargo? 
2. Or is it meant for storage? 
3. Are cosmetic looks so important? 
Checking the antecedents of sellers, asking for references and track records can help buyers make the right choice without falling prey to unscrupulous dealers. Internet searches can fetch details of container dealers whom a prospective buyer may contact. 
One should be cautious of websites that do not display an office address or the names of the owners and operators. It makes sense to verify with different sources and obtain references. In the end, the right choice and decision come with patience, careful research, and one's own experience.
VS&B Containers, headquartered in Chennai, began operations in 1996. The company offers a wide variety of containers, both newly built and used, and custom-built units that can be directly shipped from our manufacturing facilities to your preferred destinations across the world. We also operate a leased fleet of over 30,000 containers for both international leasing and domestic leasing (within India). If you have container requirements, do drop us an email at enquiry@vsnb.com and a member of our team will reach out to assist you. 
Furthermore, iInterchange Systems (A VS&B group company) provides state-of-the-art software solutions tailored specifically to meet the needs of container shipping and logistics enterprises. Please visit www.iinterchange.com or drop us an email at sales@iinterchange.com for more details.