WHAT IS A CARGO-WORTHY CONTAINER?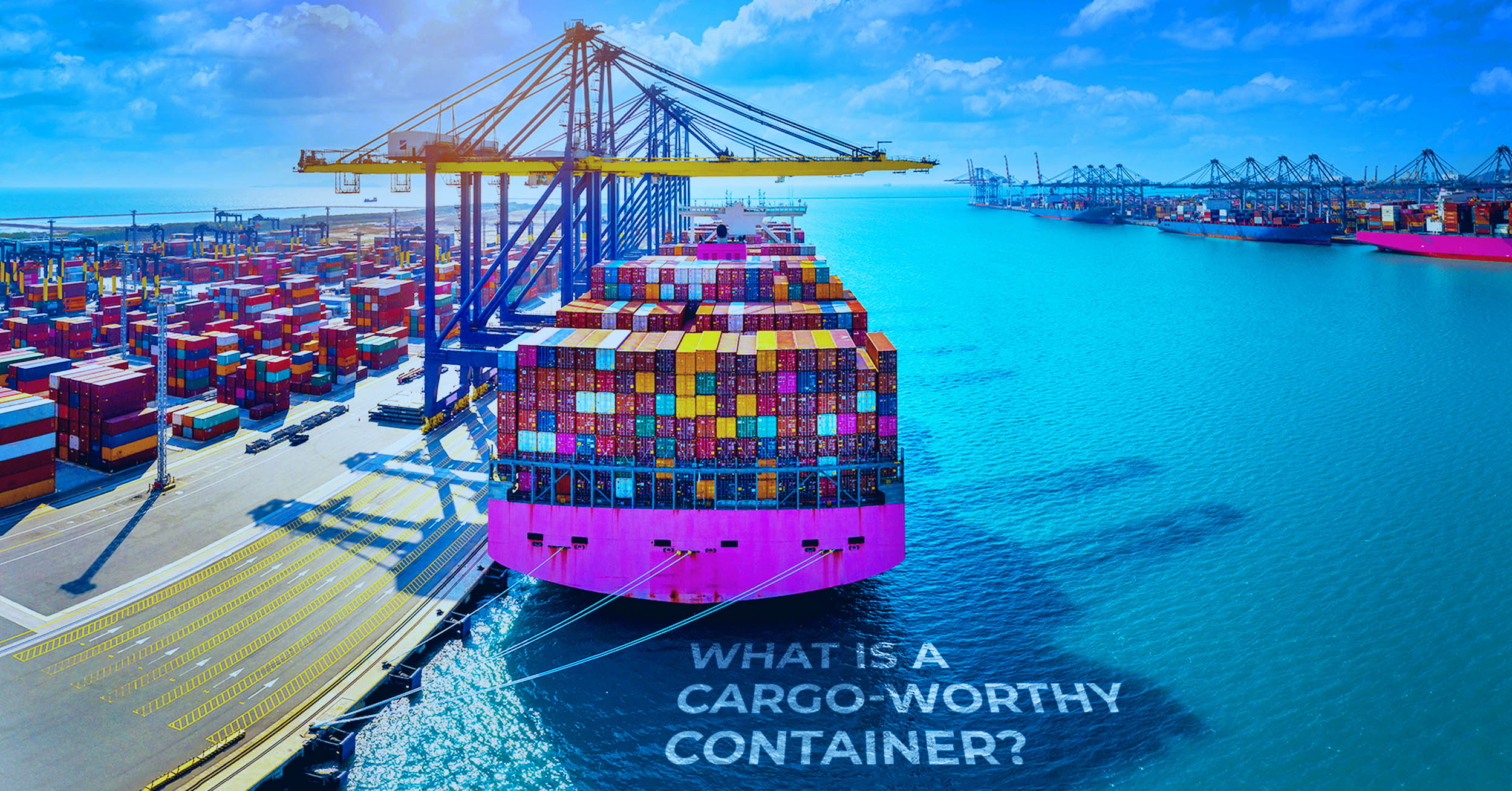 A shipping container that has been examined and approved as fit for international shipping is called "cargo-worthy". A "cargo-worthy" or "IICL-5" examination, often known as a certification, verifies that the container satisfies the requirements for strength, watertightness, and general condition to securely transport cargo by sea. Shipping containers must successfully complete a series of demanding examinations, including a close evaluation of their structural integrity, doors, locking mechanisms, and floors, in order to be deemed cargo-worthy.
Containers certified fit for carrying cargo will be wind and water-tight and able to transport goods over open sea. They can be stacked up to seven containers high owing to their robust construction.
A cargo-worthy container typically has few rust spots and dents, and its doors open and shut smoothly. The container's floor should be in a reasonably good condition and the understructure must be stable.
Such shipping containers are excellent for storing goods, moving them, and possibly even building bunkers, tiny houses, or other types of container housing.
Use of cargo-worthy shipping containers is advised for several reasons:
Safety
Cargo-worthy containers undergo a thorough inspection and get the seal of approval as being structurally sound and capable of withstanding the rigors of international transportation.
Compliance
Using cargo-worthy containers makes it easier to comply with international shipping laws and regulations, which can help to prevent delays or fines.
Durability
Cargo-worthy containers are made to withstand extreme weather and last for many years, helping to preserve your cargo from damage.
Resale Value
Containers that are suitable for carrying cargo have a higher resale value than those that are not cargo-worthy.
Cost-effective
Using cargo-worthy containers can be more cost-effective in the long run, as they are less likely to need repairs or replacement and can be used for multiple shipments.
Independent companies, also known as surveyors, typically assess and certify cargo-worthy containers. International organizations like the International Institute of Container Lessors (IICL) and the International Standards for Container Equipment (ISCE) have accredited these groups. To guarantee that the container satisfies the requirements for strength, watertightness, and general condition to safely transport cargo by sea, the surveyors thoroughly inspect it, checking its structural integrity, doors, locking mechanisms, and floors. The surveyor gives a certificate of inspection after the container passes the examination, which acts as evidence that the container is cargo-worthy. These companies include Bureau Veritas, Lloyds Register, DNV-GL, and many others.
With its headquarters in Chennai, the VS&B Containers group is a major provider of shipping containers throughout Asia and Europe. The company specializes in the sales of new and used shipping containers, SOC project shipments, static storage, and mobile warehousing. The company has a fleet of roughly 30,000 containers, 11 offices, and offers both short and long-term leasing of international and duty-paid (in India) containers. VS&B Containers group's IT wing, iInterchange Systems, offers modern software solutions for the shipping and logistics industry.
Send an email to traders@vsnb.com for prompt delivery of high-quality shipping containers. VS&B professionals can help you select the best container based on your needs for cost-effectiveness, degree of flexibility, and anticipated returns on investment.