WILL THE WORLD'S FIRST GREEN SHIPPING CORRIDOR PROVE TO BE AN ALTERNATIVE TO THE PANAMA CANAL?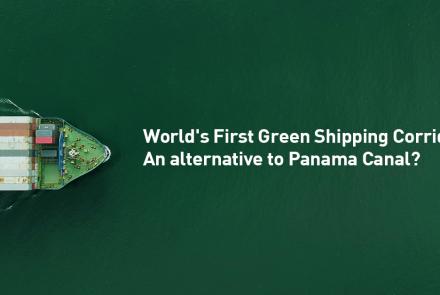 Can we visualize shipping containers travelling between two fully automated ports on the Atlantic and Pacific Oceans via a tunnel about 100 miles south of the Panama Canal? Well, this is the journey that the shipping sector is preparing to embark upon to set the trend for innovative ways for container movement that was unimaginable in the recent past.
 Zergratran, a sustainable transportation company, is developing a Maglev technology-driven transportation infrastructure to transfer containers in less than 30 minutes between fully automated ports on the Atlantic and Pacific coasts of Northern Columbia. Puerto International Las Americas (PILA) is proposed to be an underground green tunnel that will function as an alternative to the Panama Canal.
The answer to the shipping industry's early adoption of sustainable technologies that will put it on a road to achieving zero emissions will be the construction of the first Green Shipping Corridor in the world. Zergratran, based in Florida, stated that it is addressing the need for more marine commerce routes and the sustainable choke point around the Panama Canal, as well as helping to connect the shipping industry to control the rise in global temperatures.
Demand in the global sea trade is rocketing. The shipping and logistics sector is under a lot of stress because of growing port congestion, vessel and container shortages. It will require years of concerted work to resolve the issue.
By bringing the vital items that our society requires to function smoothly, shipping also helps to connect and unify the world as a single entity. Although shipping has the lowest carbon footprint from any form of transportation per ton moved, it produces a sizable amount of greenhouse gases. Shipping cannot afford to wait, since it has a huge carbon footprint that only shows signs of expanding. Shipping must go carbon-free for the globe to go carbon-free.
The global economy will be benefited by the new "Green Gateway" transportation infrastructure. These range from boosting the earning for small, medium, and large businesses to improving supply chain efficiency and logistics.
Please read the other VS&B blogs, which are packed with knowledge about the container shipping industry.
The VS&B Containers group, with its headquarters in Chennai, is a significant supplier of marine containers throughout Asia and Europe. Sales of new and used containers, SOC project shipments, static storage, and mobile warehousing are the company's areas of expertise. With a fleet of approximately 30,000 containers and 11 offices. VS&B Containers group provides you with options for both short and long-term leasing of international and duty-paid (in India) containers. Another division of VS&B provides cutting-edge software solutions for the shipping and logistics sector.
For timely delivery of quality containers, email traders@vsnb.com, where VS&B experts will assist you in choosing the ideal container depending on your budgetary needs, level of flexibility, and expected returns on investment.
Note:
We've sourced facts for this blog from www.prnewswire.com